MB Sprinter 316vip minibus hire
The moment you first appear in the Mercedes Sprinter 316 VIP cabin, your vision of how minibuses are like will change forever. The spacious body and rich equipment of VIP salon will remind you snapshots of influential peoples private business jets.
Beige leather interior with anatomical chairs and sofa. The ceiling height of 1.85m allows people taller than average to move freely around the cabin. Tinted glass of the side windows protect passengers of the VIP minibus from direct sunlight and creates private atmosphere inside during the day, while the LED backlight guaranties festive mood in the evening. Neat curtains hide you from outside prying eyes.
Front row seats can be rotated by 180°. Whether you prefer to converse with your fellow travelers or consider the views outside during a trip or transfer - you will always feel comfortable and cosy. While what exactly you can see outside a tourist guide can explain by use of a microphone and hi-end class acoustics.
A minibus of the kind is often served to a plane's ramp for important persons. Rent VIP minibus with an experienced driver for your guests or business partners will express your respect and hospitality to them.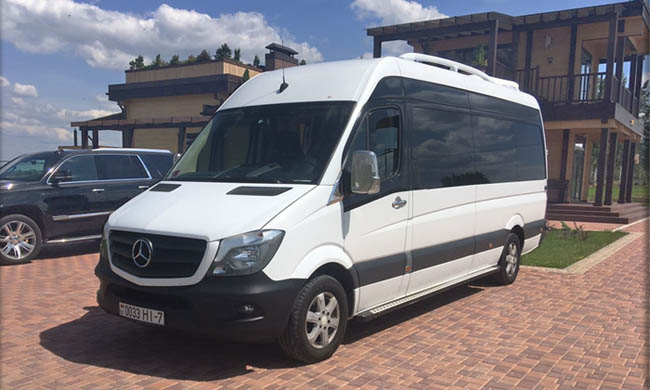 Mercedes Sprinter VIP - a really perfect van for delegations up to 8 persons.
This minibus is equipped with every essentials for business meetings and negotiations in a comfortable environment.
A folding table (the size is 40cm x 65cm) is convenient for brief presentations on color 22″ monitor and for a small buffet with chilled champagne after a meeting. At the same time, renting a vip-minibus on our website remains very affordable.
The service and rental of a minibus with a driver from our company were highly rated by customers from Belarus, Russia, Turkey, Qatar, Japan, China, Central and South Africa.
We are sure once you will have rented a Sprinter vip minibus with a driver once, you become our regular customer.